NEWS
2014-10-29
In October Peter went public with his announcement that he will dissolve the current line-up of Arcana.
This has been on his mind for a long time, and something all members of Arcana new.
We all support Peter in his decision and we will always be there in our hearts and our minds. For this reason it will also be the last
concert we make in Berlin November 1st, 2014.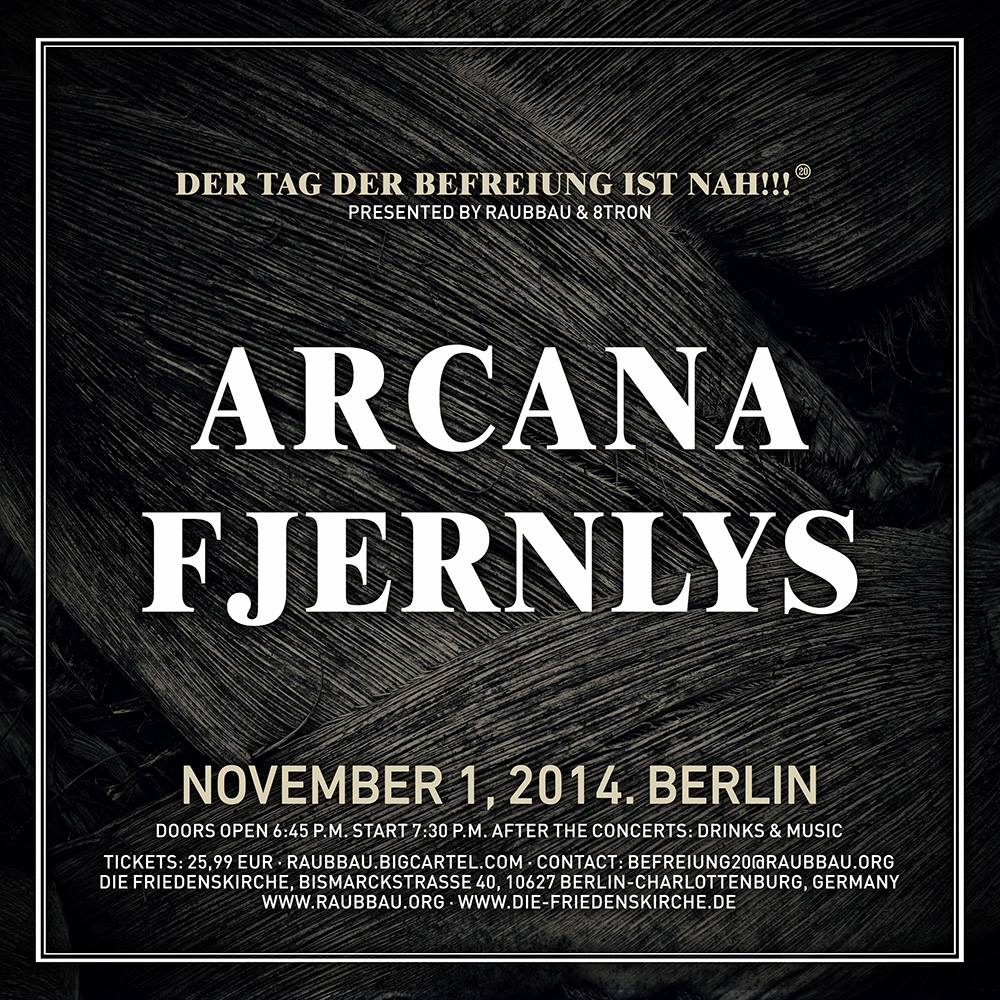 2014-01-23
It is really sad when you notice that we haven't updated our own website in almost a year. Last year was turbulent, and not much was done musically.
Peter have been focusing on his next solo album, but also started to work with the next Sophia. Arcana will also get space this year, 2014, a year when Arcana has its 20th birthday.
So keep your head up, and your eyes open. Soon information will be given to you. Before that, please enjoy out old songs from various albums
that we just uploaded on Bandcamp.
2013-04-04
Right now, Peter Bjärgö is on a small mini tour together with Desiderii Marginis and Empusae.
Once back home again, it will only be two weeks and then we are coming to Italy and two weks after that we are coming to Paris.
We can't wait to be back on stage again and to see all you lovely people!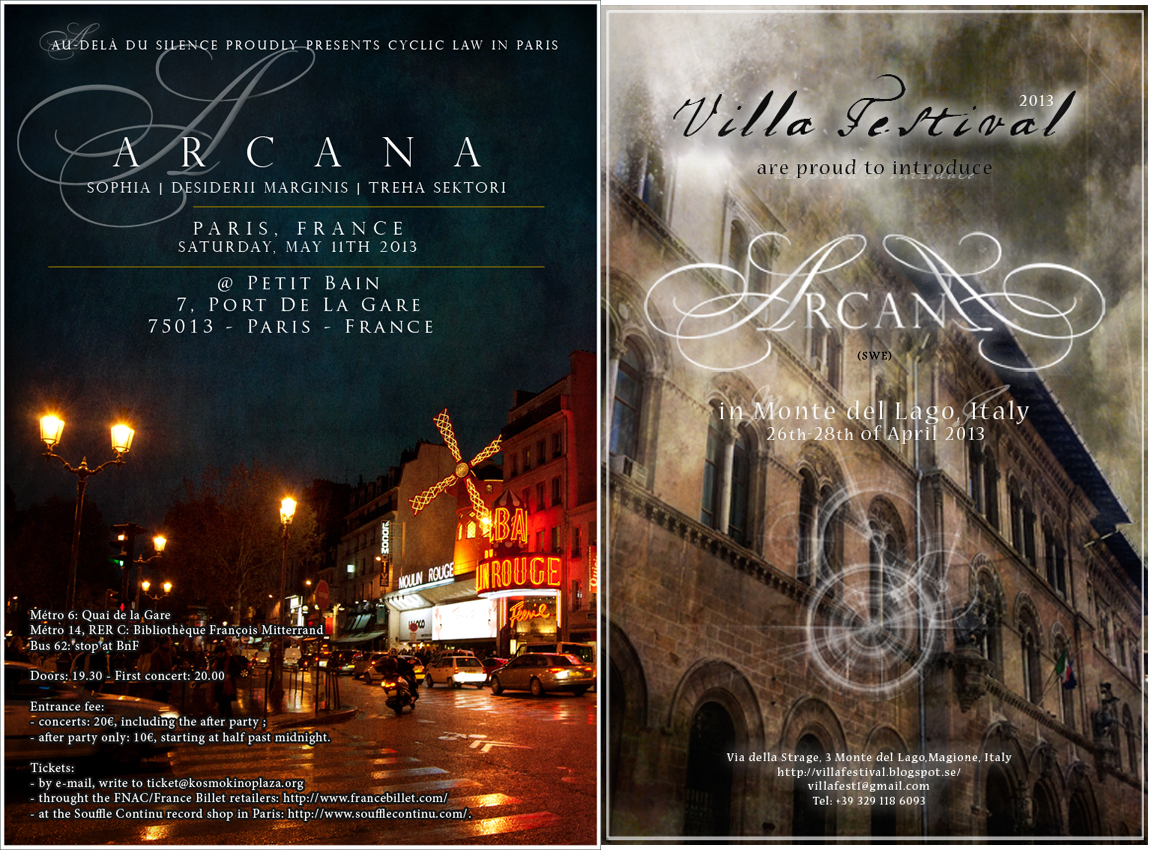 2013-01-12
Arcana is part of the Cyclic Law's 10th Anniversary Label Sampler. With the song For our Continuity, Arcana moves back to earlier sounds and territories.
2013-01-12
We want to wish you all a Happy New Year. We begin with thanking all of you who supported us during our gigs in Stockholm and Turku. We had an amazing time and we loved every minute of it.
Then some bad news. Due to the financial crisis in Greece, our concert in Athens has to be postponed until this autumn. Hopefully we soon have better news for you.
But we are happy to announce our return to Paris, France. On May 11th, we will perform ono the 10th anniversary of Cyclic Law.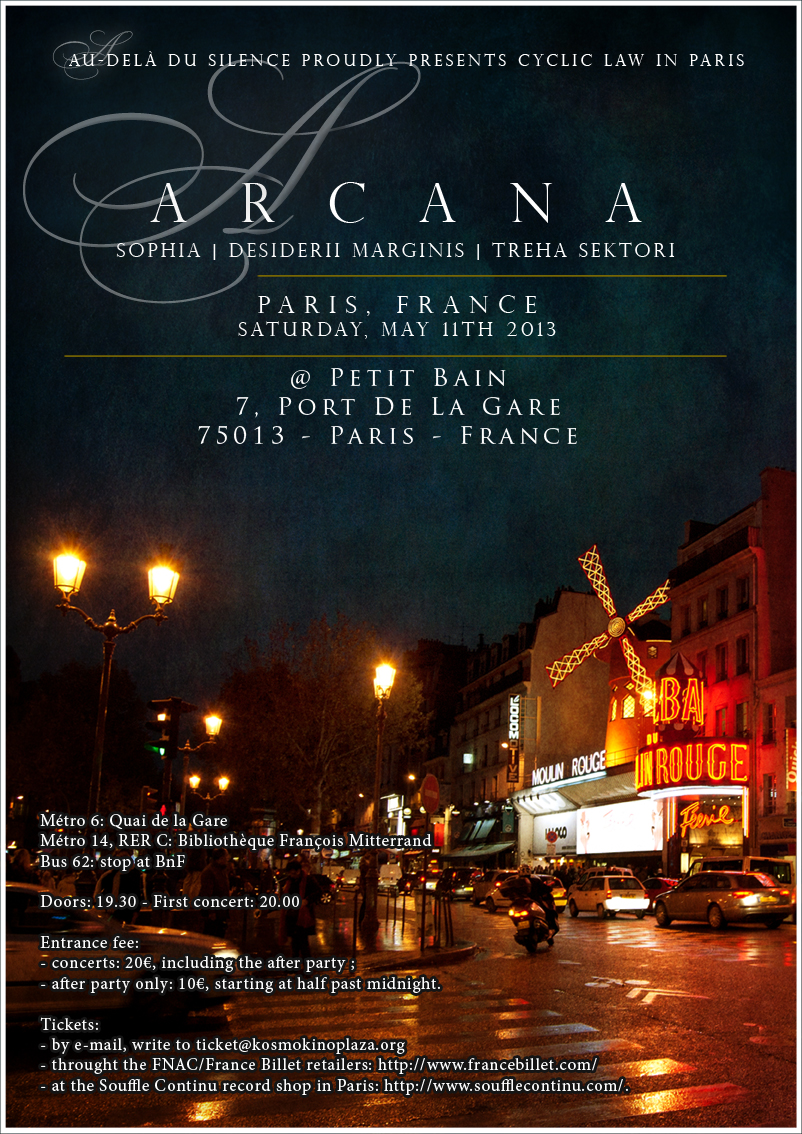 2012-12-29
Dont forget our concert in Stockholm and Turku this following week. Stockholm on the 3rd of January and Turku on the 5th of January 2013.
HAPPY NEW YEAR
2012-11-19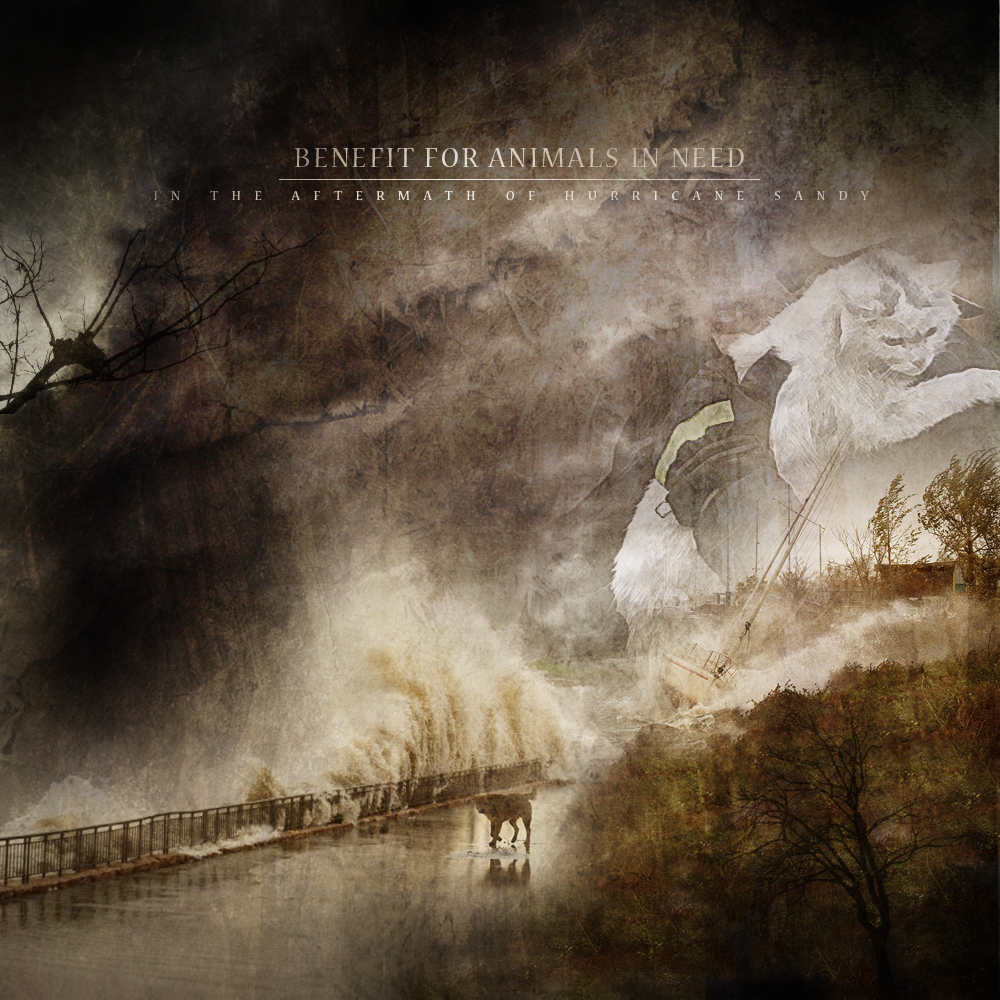 http://benefitforanimalsinneed.bandcamp.com/
This compilation is to benefit the ASPCA. Their rapid and effective response to the animals affected by Hurricane Sandyhas not only
been amazing but critical in helping those who have no voice. ASPCA provides rescue, evacuation shelter,
emergency medical treatment and food and currently they are running emergency pet boarding facilities for families
who have been displaced. These services are offered at no cost. All proceeds of this compilation
will go directly to the ASPCA to assist them in their current efforts as well as helping them to be ready to respond
when disaster strikes again. 
Arcana contributes with a song never released before entitled Chant III, as well as the artwork above made by Cecilia Bjärgö
2012-09-24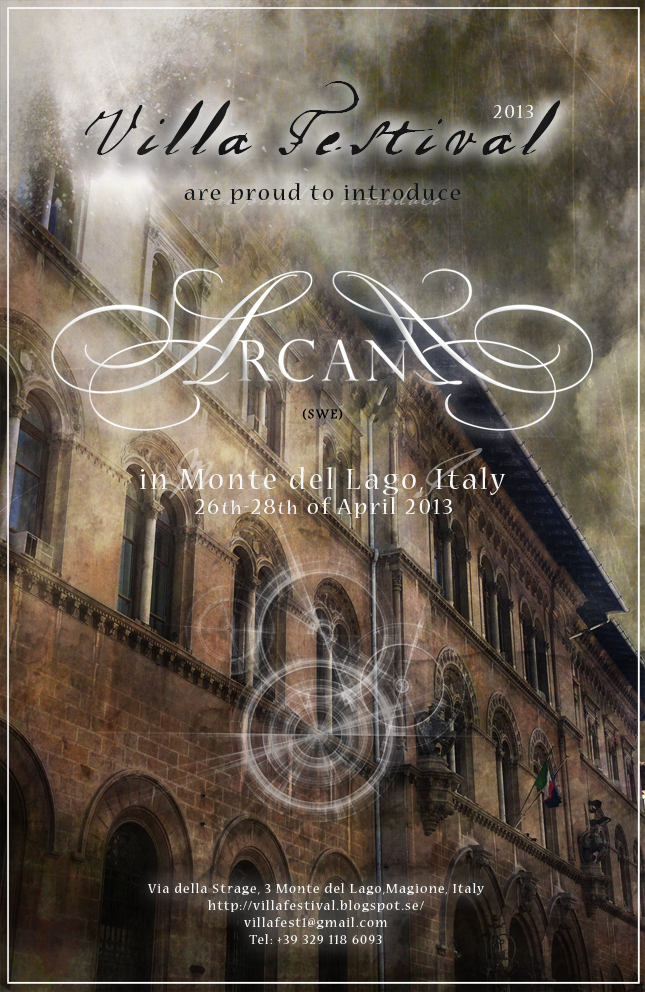 2012-09-21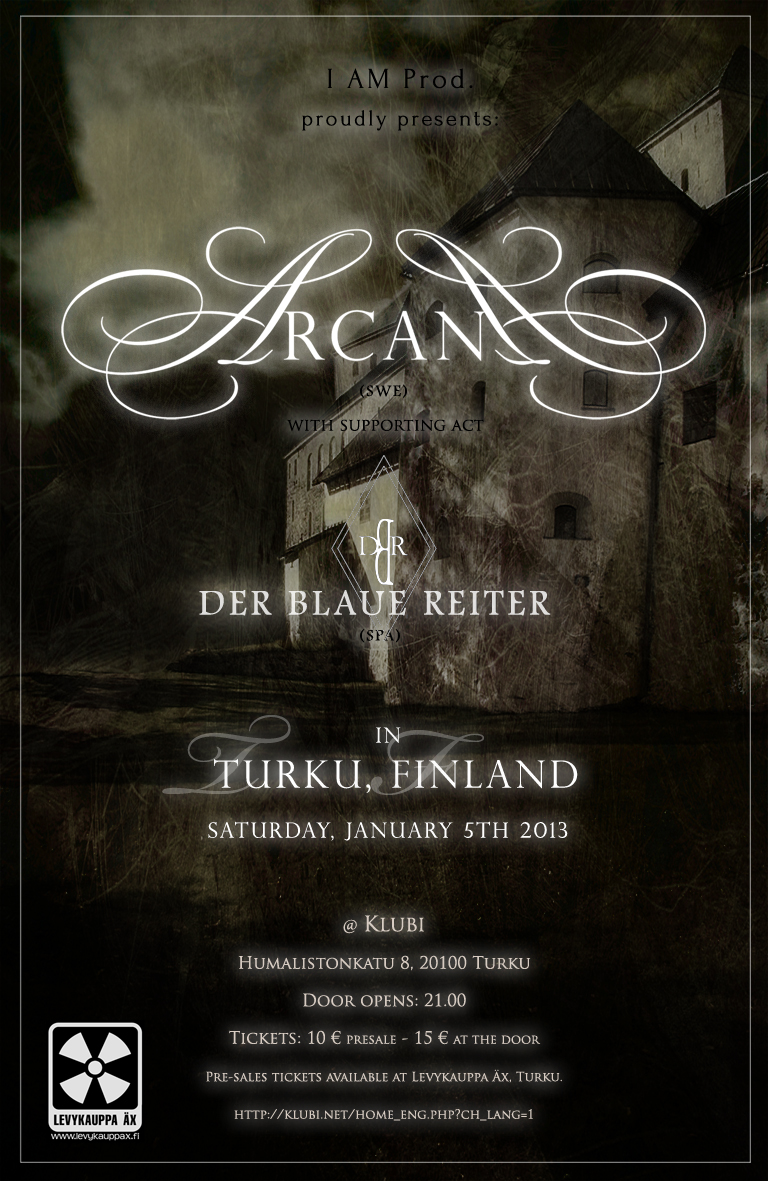 2012-08-21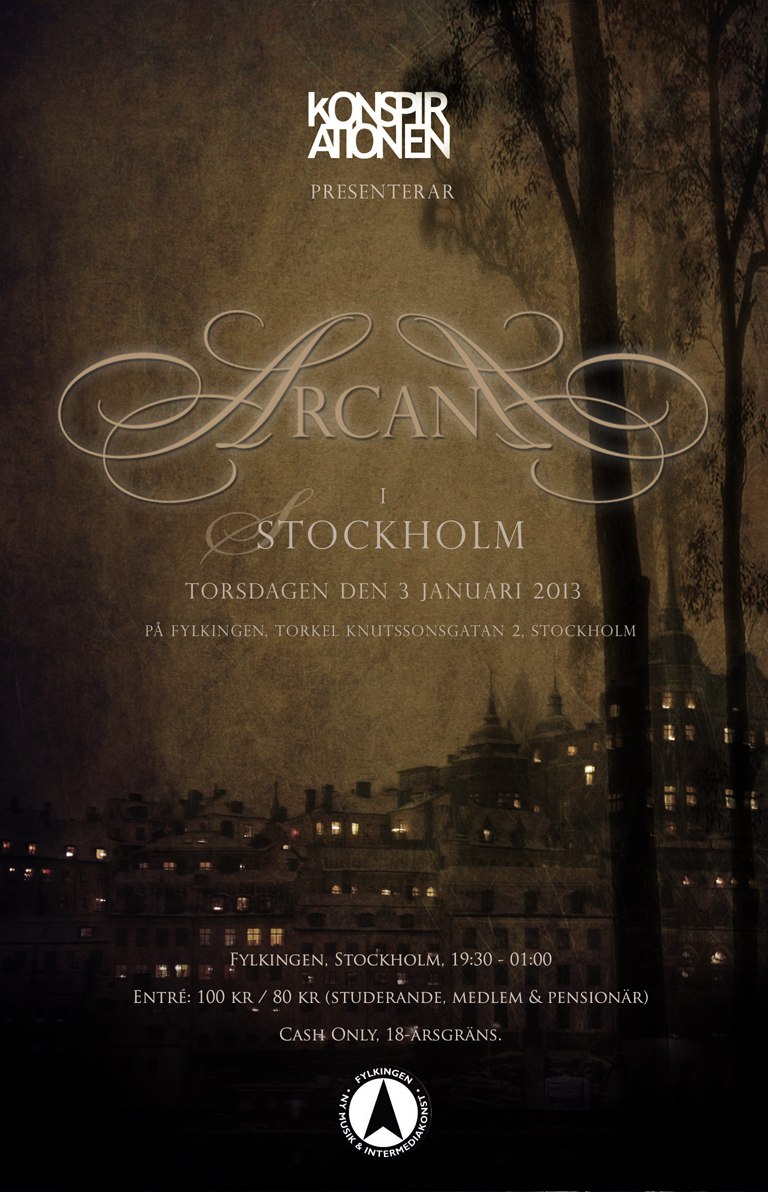 2012-05-31
The new album As Bright as a Thousand Suns is now released since 4 days. You can find it at www.cycliclaw.com.
Join us at Facebook for the latest news and updates.
2012-05-08